A place for everything
Bookshelves are an essential piece of furniture for anyone who loves to read. They provide a practical and stylish way to organize books and other items while also displaying them for easy access.
However, traditional bookshelves can be bulky and difficult to move around. Enter the folding bookshelf, a versatile and practical solution perfect for anyone who needs a little flexibility in their home decor.
Shop this article: Winsome Wood Foldable Four-tier Shelf, Casual Home Three-shelf Folding Stackable Bookcase and Stony Edge Four-shelf Folding Bookcase
What is a folding bookshelf and how does it work?
A folding bookshelf can be collapsed and folded easily for convenient storage or transportation. These bookshelves typically have a hinged design, which allows them to be folded flat when not in use and then easily expanded and locked into place when needed.
Most folding bookshelves are made from lightweight materials such as wood, bamboo or metal. They often have multiple shelves for books, decorative items or other household items. Floating bookshelves may also feature adjustable shelves, which can be moved up or down to accommodate different sizes of things.
To use a folding bookshelf, you unlock the hinges and pull the shelves out until they click into place. Once the bookshelf is set up, it can be used just like any other bookshelf. When you're finished using it, you can simply fold it flat and store it away until you need it again.
Why buy a folding bookshelf?
Folding bookshelves are designed to be easily collapsed and stored away when not in use. This makes them ideal for people living in small spaces, such as apartments or studios, or those who like to move furniture around regularly.
In addition to their practicality, folding bookshelves are also available in various styles and materials. From sleek and modern designs made from metal or glass to more traditional wooden bookshelves, there is a folding bookshelf for every taste. Some models even come in fun and colorful designs for children's rooms or other playful spaces.
One of the great things about folding bookshelves is that they can be used in various ways. Of course, they make a great storage solution for books and magazines, but they can also be used to display decorative objects, houseplants and other items. Because they can be easily moved around, you can experiment with different configurations to find the perfect setup for your space.
Another advantage of folding bookshelves is that they are often very affordable. While traditional bookshelves can be expensive, folding models are often more budget-friendly.
What to consider before buying folding bookshelves for your space
When shopping for a folding bookshelf, there are a few things to keep in mind.
First, consider the size and weight of the books or other items you plan to store on the shelves. Make sure the shelves are sturdy enough to support the weight and that they are the right size to accommodate your items.
You should also think about the bookshelf's overall style and design to ensure it fits in with your existing decor.
Best folding bookshelves to buy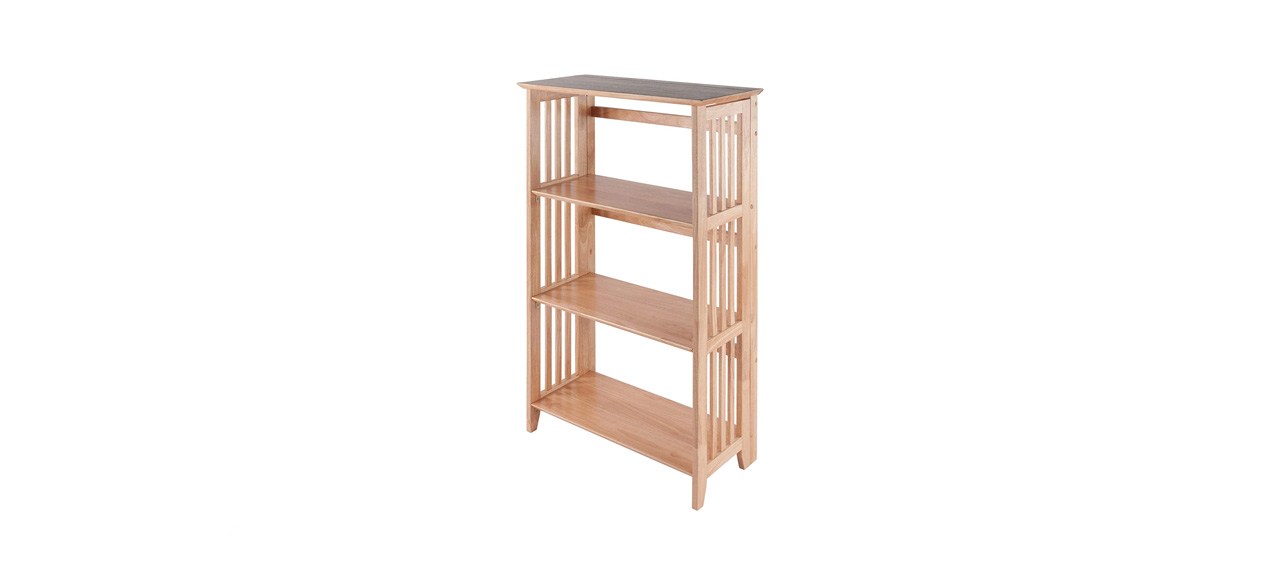 Winsome Wood Foldable Four-tier Shelf
Crafted from solid beechwood with a natural finish, the four roomy shelves of this foldable bookshelf provide ample space. Its lightweight design and easy portability make it a breeze to move and store. The mission-style slatted sides and open back lend a light, airy look that complements any decor.
Sold by Amazon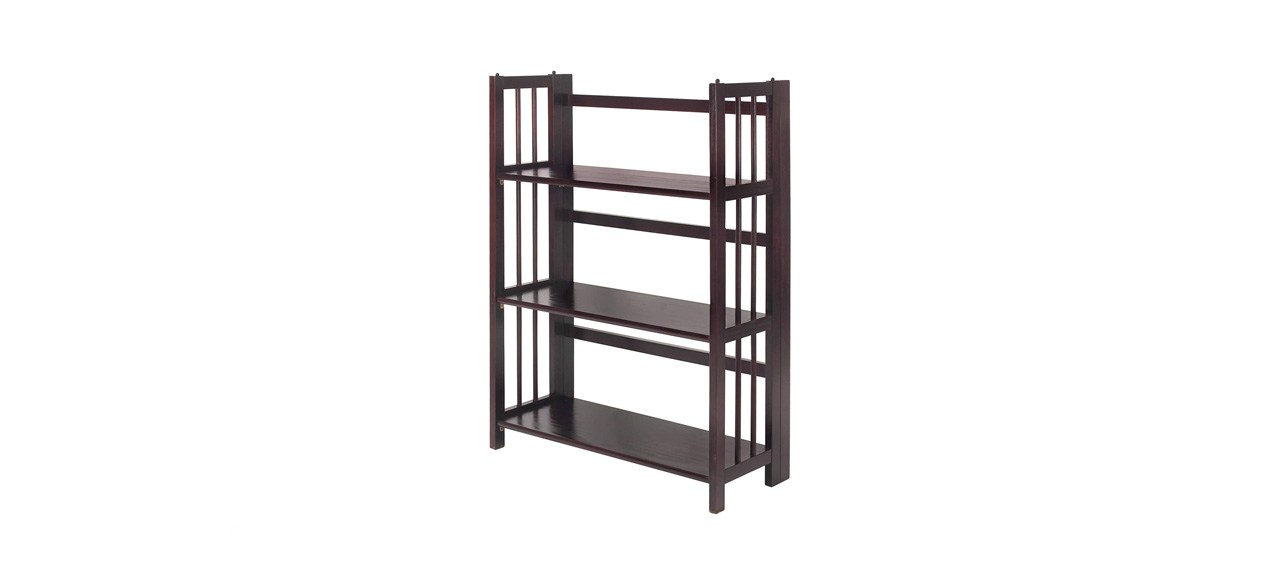 Casual Home Three-shelf Folding Stackable Bookcase
With its solid wood construction and rich espresso finish, this unit can support your belongings on its three sturdy shelves. Multiple shelves can easily be stacked up to two units high, and no assembly is required.
Sold by Amazon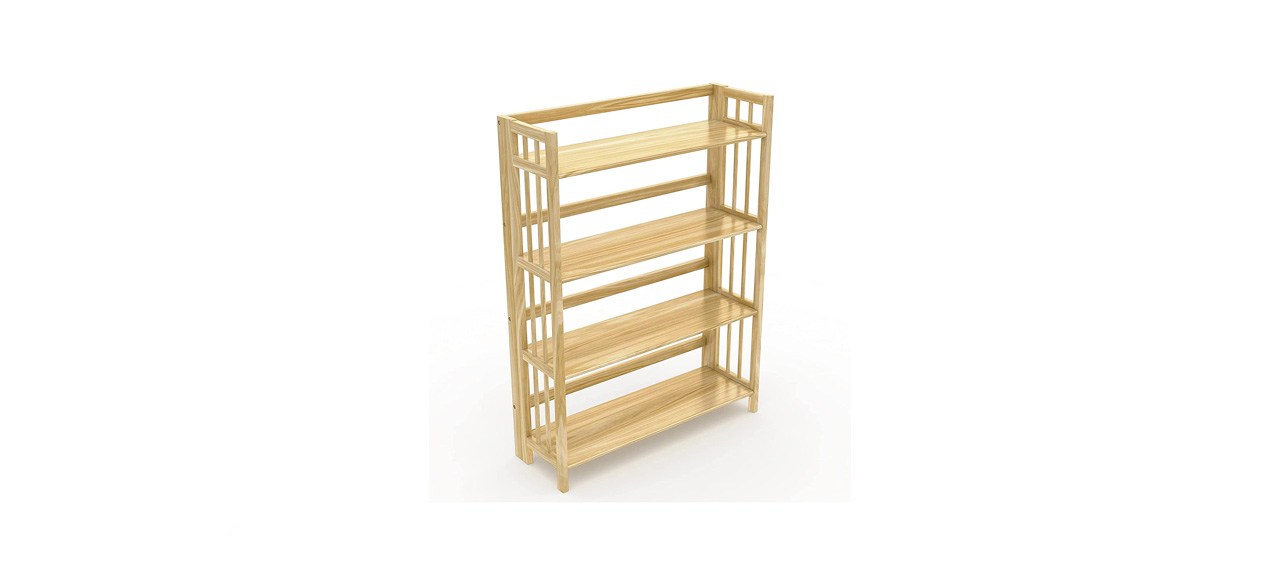 Stony Edge Four-tier Folding Bookcase
This sturdy and well-balanced foldable bookshelf can hold heavy items while still being light enough to move around easily. Made from high-grade natural wood, this foldable bookcase's four shelves offer ample storage space.
Sold by Amazon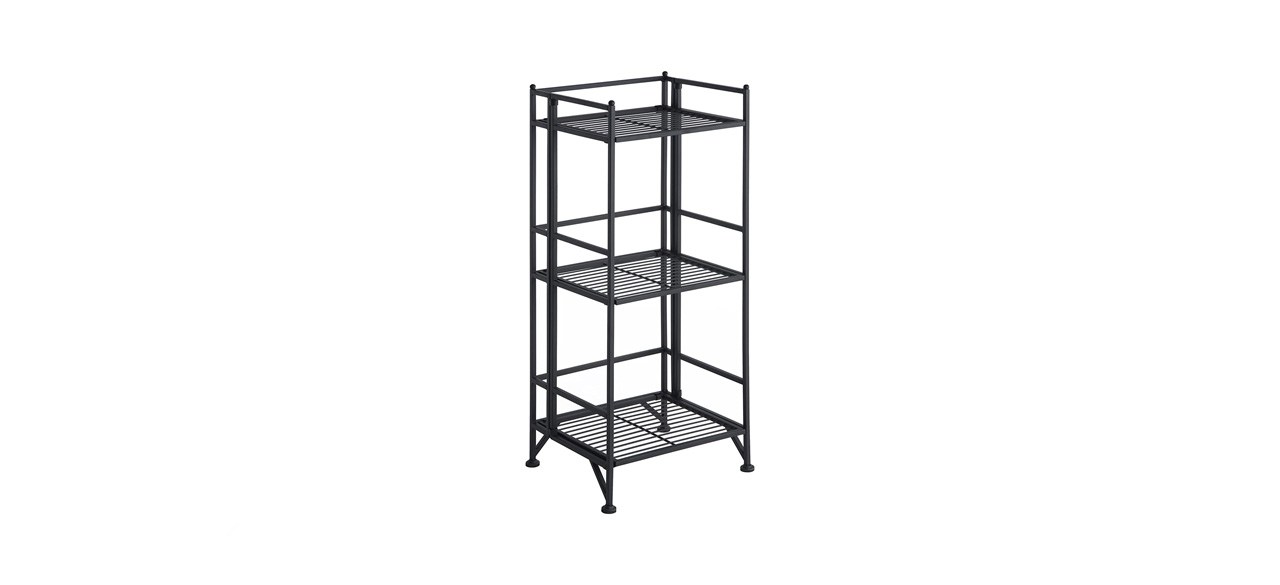 Convenience Concepts Extra Storage Three-tier Folding Metal Shelf
The foldable bookshelf made of powder-coated metal is a versatile and convenient storage solution for any room in the house. With its easy-to-use swing-out design, you can quickly drop shelves into place and move the bookshelf around effortlessly, making it ideal for holding anything from books to collectibles.
Sold by Amazon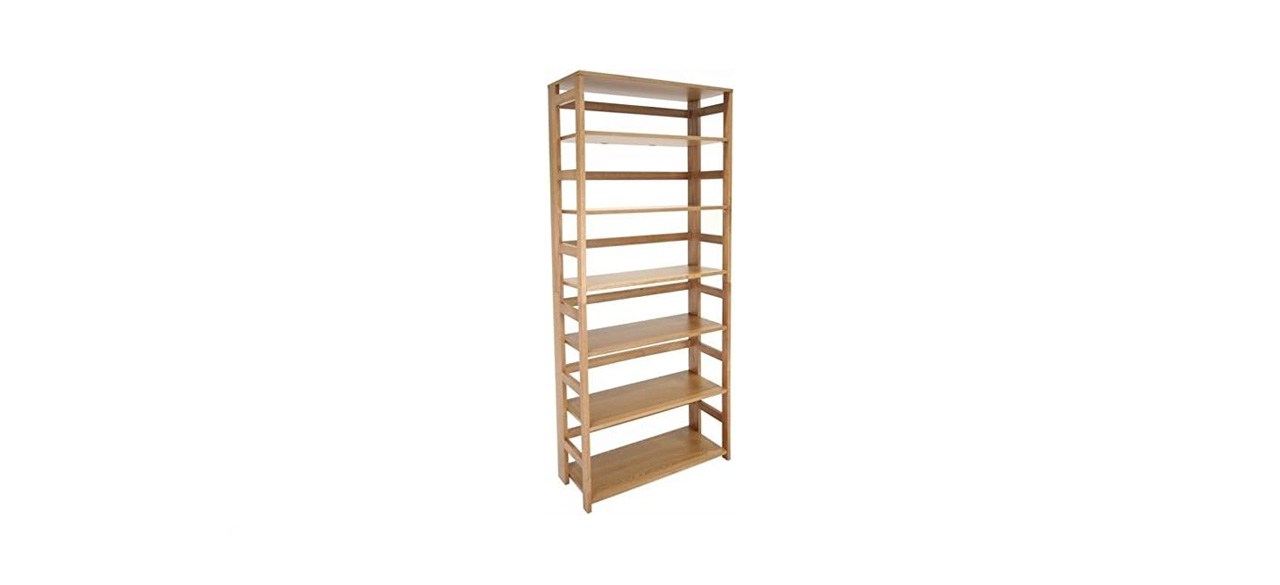 Regency Flip-Flop High Folding Bookcase
The flip-down mechanism on the shelves makes assembling this 67-inch tall foldable bookcase very simple. The solid wood frame and medium oak finish make it a durable piece of furniture that looks great with almost any decor.
Sold by Amazon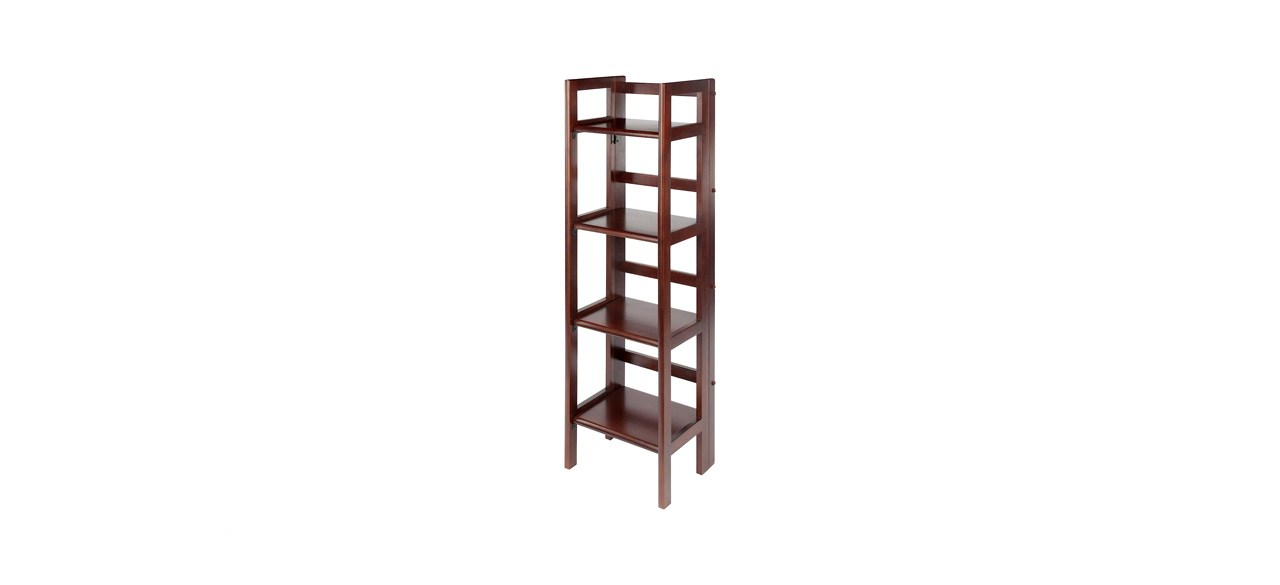 Winsome Wood Four-tier Folding Terry Shelving
This narrow but tall folding bookshelf is great for slotting into the corner of a small space. It's made from solid wood with a walnut finish, giving it a premium, antique look.
Sold by Amazon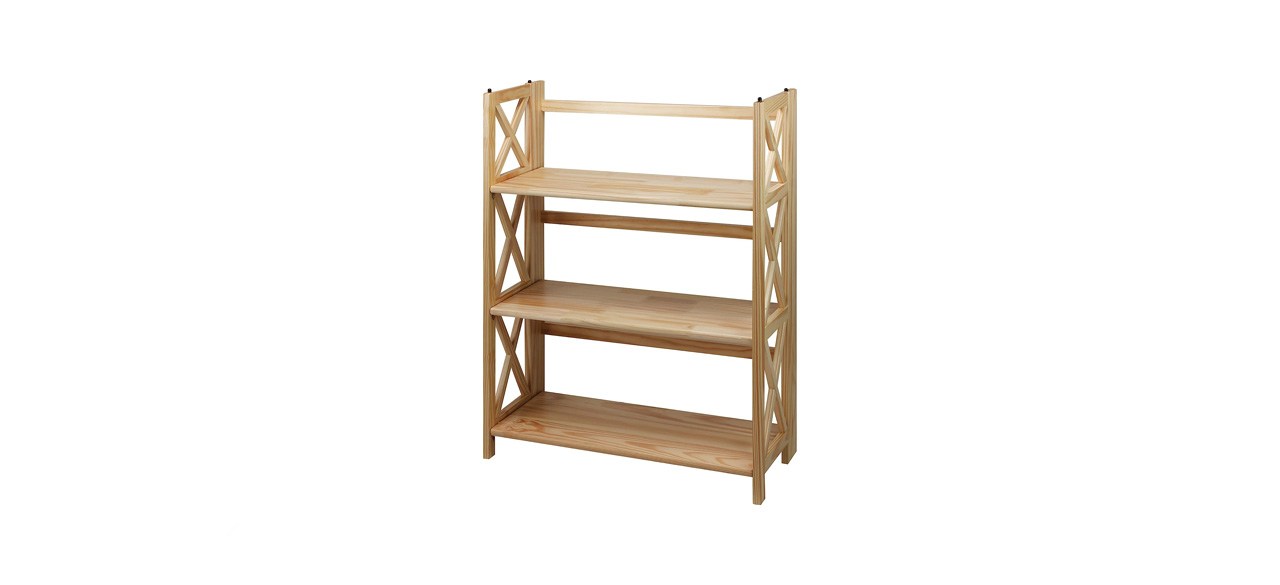 Casual Home Montego Three-shelf Folding Bookcase
These shelves offer a hassle-free storage solution with their lightweight, 22-pound construction and stackable design. They're made from solid wood with cross-patterned siding on the shelves to prevent books and other items from falling off.
Sold by Amazon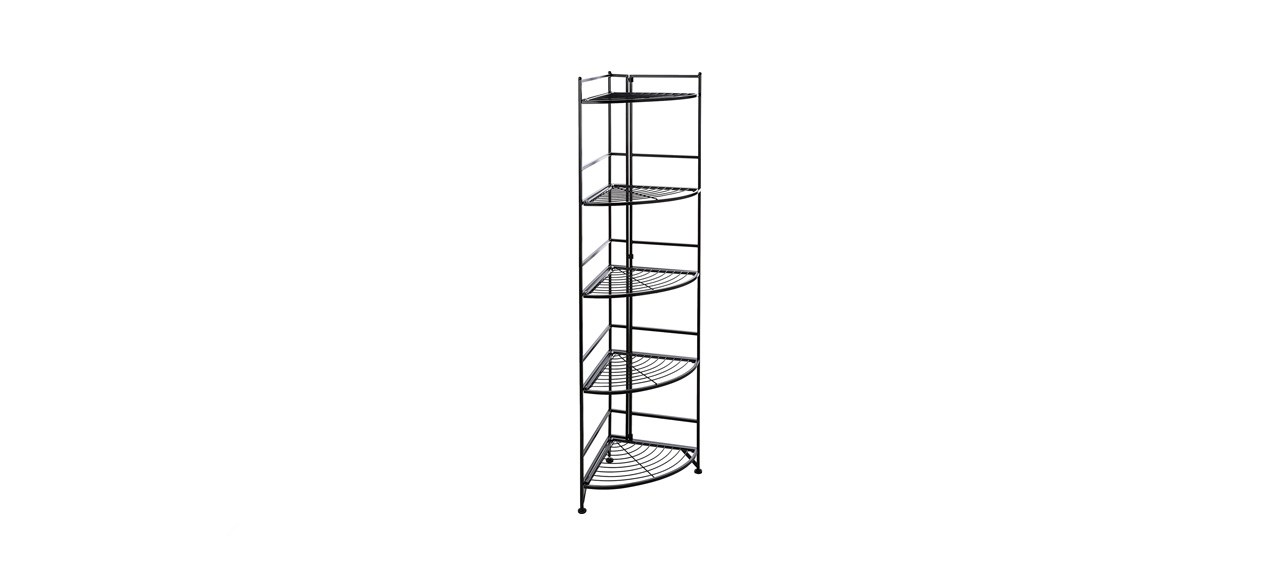 Convenience Concepts Five-tier Folding Metal Corner Shelf
The assembly of these folding corner bookshelves is as simple as swinging out the sides and dropping each shelf into place. They are easy to use, store and move around, making them a practical and versatile storage solution.
Sold by Amazon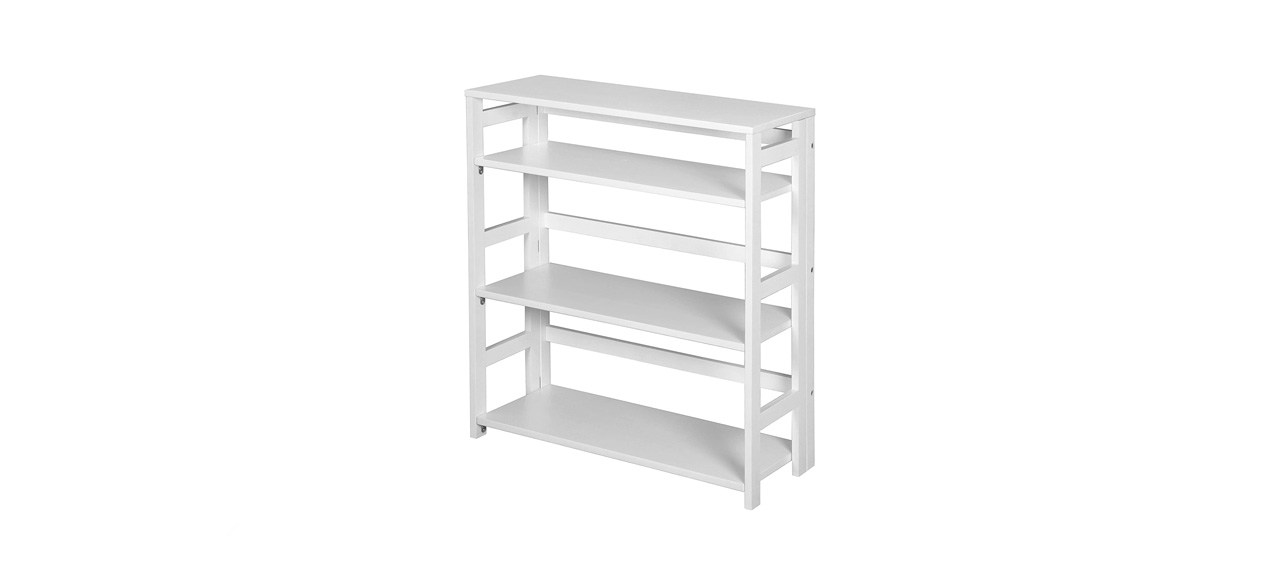 Regency Flip Flop Folding Bookcase
With three flip-down shelves and one fixed top shelf, this solid hardwood frame bookcase is easy to assemble without tools. It features a classy white hand-rubbed veneer finish, perfect for homes, offices and dorm rooms.
Sold by Amazon
Want to shop the best products at the best prices? Check out Daily Deals from BestReviews.
Sign up here to receive the BestReviews weekly newsletter for useful advice on new products and noteworthy deals.
Lauren Farrell writes for BestReviews. BestReviews has helped millions of consumers simplify their purchasing decisions, saving them time and money.
Copyright 2023 BestReviews, a Nexstar company. All rights reserved.