BestReviews is reader-supported and may earn an affiliate commission. Details.
How to keep your pet safe this Valentine's Day
Each holiday can bring hidden dangers to your pet. Most people are familiar with the hazards of Halloween, and how chocolate is toxic to dogs and cats. But you might not realize that a single lick of certain flowers that are popular on Valentine's Day can be lethal to your pet.
Before you fill your home or apartment with new floral arrangements, make sure they aren't toxic to your pet. For example, while lilies are popular gifts to give and receive on Feb. 14, if cats are exposed to this beautiful plant, it can cause acute kidney injury or even death. To celebrate safely, it's essential to know which flowers are toxic and which are safe. It's also wise to have some alternative gift ideas that don't involve live flowers.
In this article: Gucho Handmade Preserved Rose Gift Box with Forever Rose and Necklace, Lego Icons Flower Bouquet and Luyue 10-Pack of Artificial Red Roses
If you have pets, keep these flowers out of your home
According to the ASPCA website, there are hundreds of plants that are toxic to your pets. However, not all of these plants are common household plants, and not all lead to life-threatening complications. The site also has a list of the top toxic plants with seven that might find their way into your home on Valentine's Day.
Lilies: While symptoms in dogs are typically limited to gastrointestinal issues, cats that are exposed to this plant — even just by licking the pollen — can experience acute kidney injury or possibly death.
Azaleas: In most instances, ingesting small amounts causes an upset stomach. Large amounts, however, can cause irregular heartbeats and seizures.
Rhododendrons: Rhododendrons carry the same warnings as azaleas.
Tulips: In some instances, ingesting tulips can result in severe stomach distress or intestinal blockage.
Hydrangeas: This flower contains cyanide, so it's potentially very dangerous. Thankfully, if your pet ingests this plant, most often it only results in an upset stomach.
Peace lilies: These flowers cause upset stomach, mouth pain and drooling, but the toxins are not absorbed into the system, so there's no risk of organ damage.
Daffodils: The trouble with daffodils is they can cause a wide range of problems, from upset stomach to low blood pressure and intestinal blockage.
Pet-safe flowers
According to the ASPCA, if you want to make a pet-friendly floral arrangement, the safest flowers to use are:
Roses
Gerbera Daisies
Sunflowers
Orchids
Snapdragons
Freesias
Limonium
Madagascar Jasmine
Stock
Waxflower
Lisianthus
Signs that your pet may have ingested a toxic plant
You might not catch your dog or cat munching on a flower, but you will see symptoms that they have been exposed to or ingested a toxin. In a dog, this can present itself as anything from mild lethargy or weakness to drooling, vomiting and diarrhea. In extreme cases, it could cause seizures or a coma.
With cats, the mild symptoms might be hard to identify. These include scratching, watery eyes and frequent urination. Like dogs, though, the more noticeable symptoms are drooling, vomiting and diarrhea. Additionally, your cat could develop an irregular heartbeat and exhibit breathing difficulties.
If your dog or cat develops any of these symptoms, even if there are no known toxins in the house, contact your vet.
Pet-safe flowers for Valentine's Day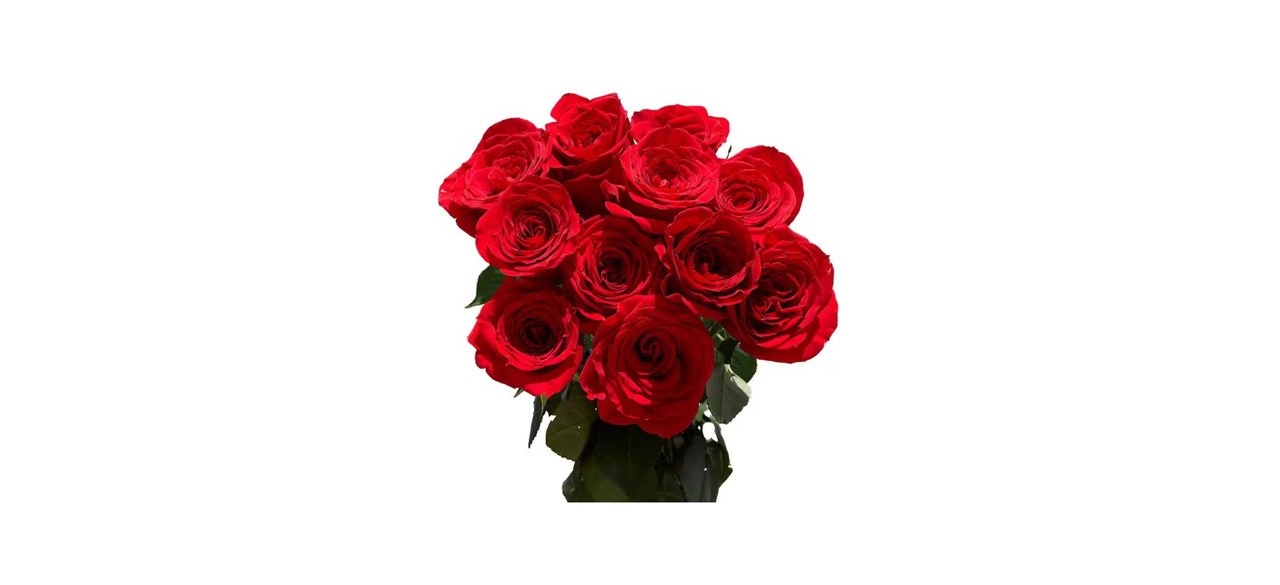 These roses are shipped as closed buds. When they arrive, they'll need 2-3 days to blossom. All the stems are cut by hand and shipped fresh with guard petals still intact.
Sold by Home Depot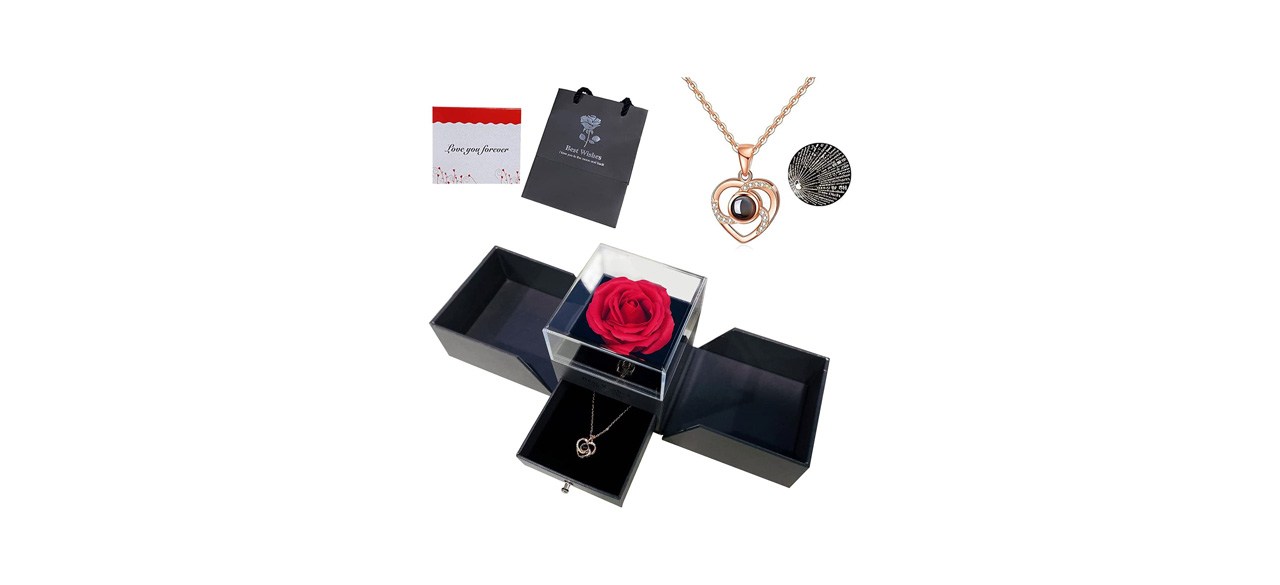 Gucho Handmade Preserved Rose Gift Box with Forever Rose and Necklace
This elegant set includes a preserved rose in a chic black box along with a necklace that says "I love you" in 100 different languages. The display case doubles as a jewelry box.
Sold by Amazon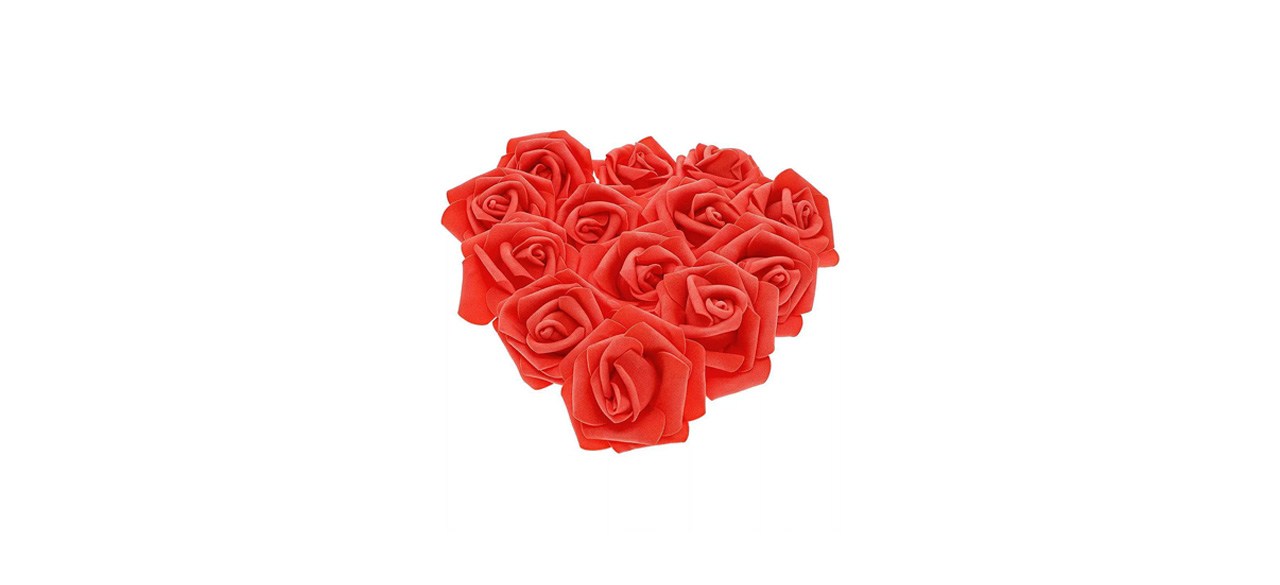 Juvale Stemless Rose Artificial Flower Heads
There are 100 stemless polyester roses in this DIY pack. You can use them as a centerpiece, to make a wreath or whatever else you can imagine as the perfect holiday gift.
Sold by Kohl's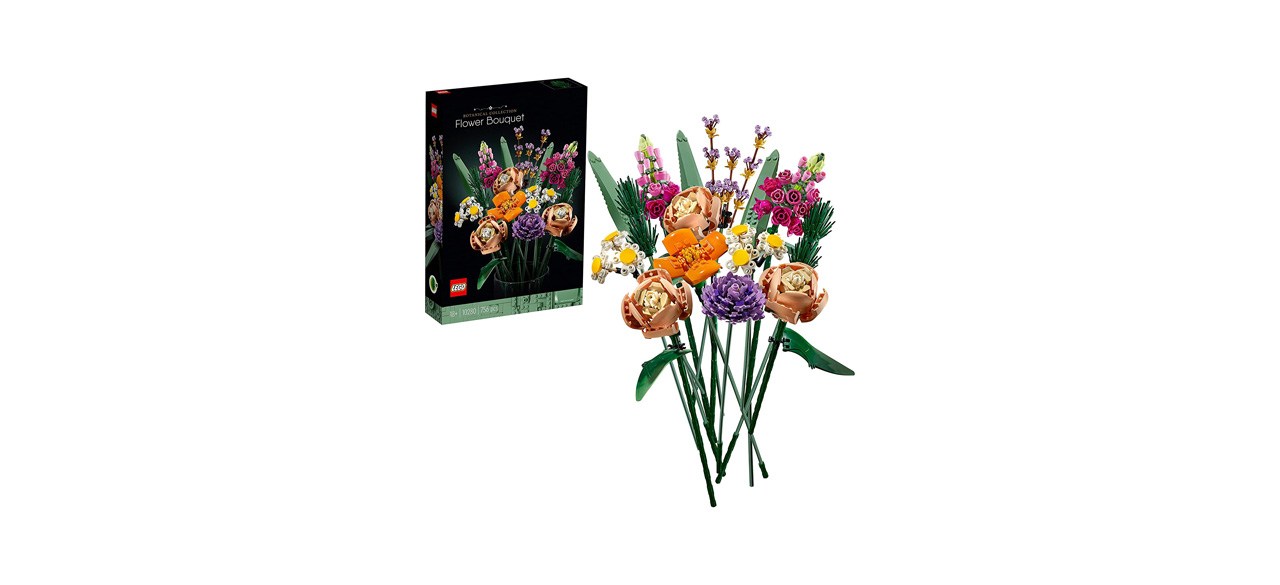 With this clever Lego kit, you get to build your own flowers. This means you don't have to worry if they're toxic. However, be aware that some of the smaller pieces may still pose a choking hazard to a smaller pet.
Sold by Amazon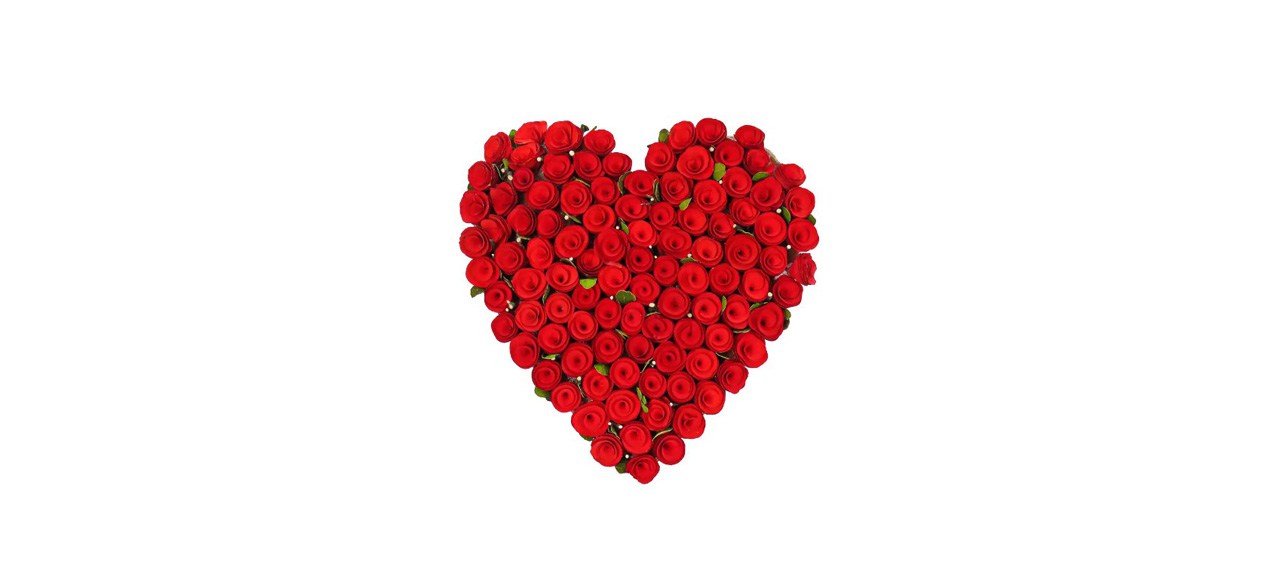 National Tree Company Red Floral Valentine's Heart Decoration
This beautiful artificial Valentine's Day heart decoration is 17 inches long and 16 inches wide. It can be hung on a wall or door to brighten up any room for the holiday.
Sold by Home Depot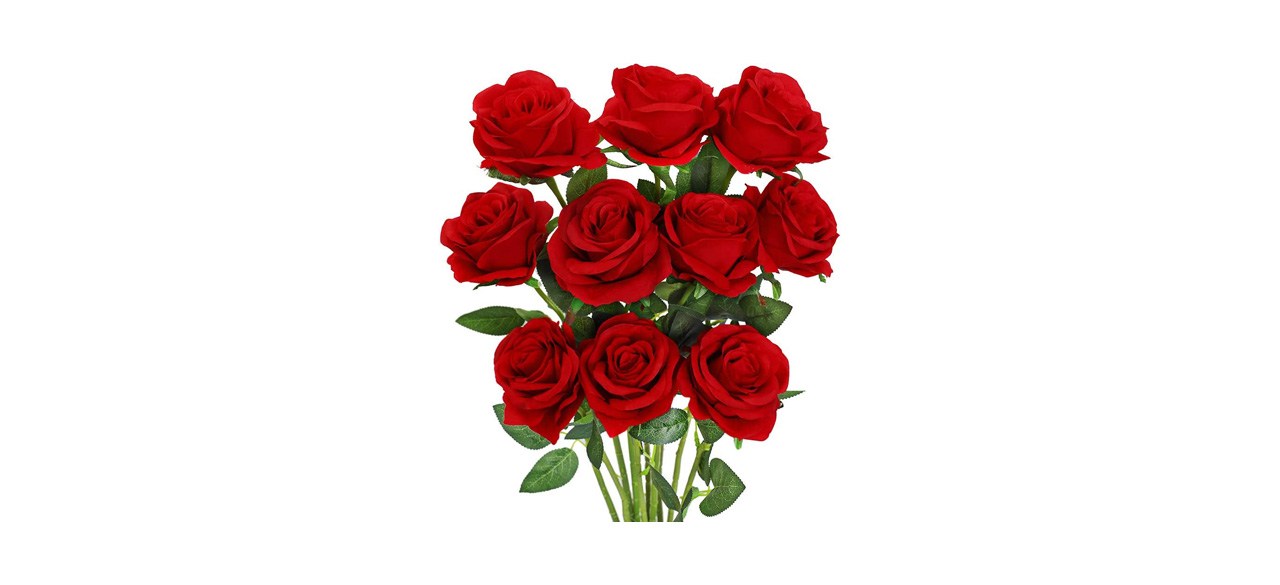 Luyue 10-Pack of Artificial Red Roses
These artificial silk roses are available in a variety of options. If red isn't your favorite, you can choose from over two dozen other colors. These roses are set on a plastic stem, making them suitable for placing in a vase or making a bouquet.
Sold by Amazon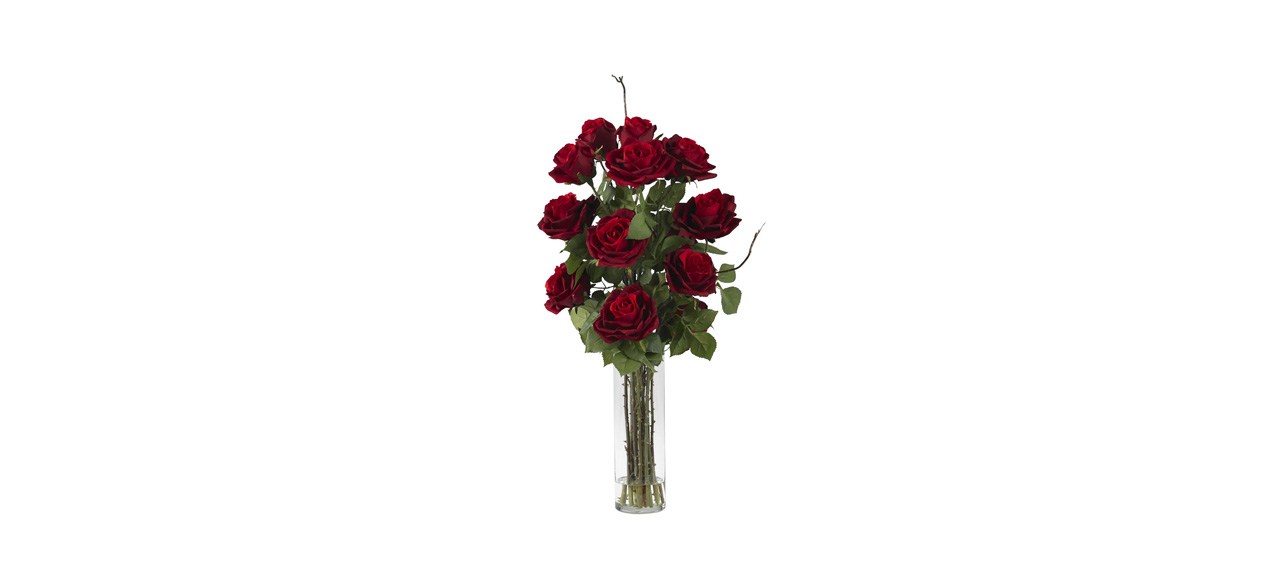 Nearly Natural Liquid Illusion Silk Rose Floral Arrangement
The maker of these gorgeous silk flowers puts a great deal of attention on details. The stems, leaves and thorns are all very lifelike. The arrangement comes in a glass cylinder vase for that extra touch of elegance.
Sold by Kohl's
Other options worth checking out
Want to shop the best products at the best prices? Check out Daily Deals from BestReviews.
Sign up here to receive the BestReviews weekly newsletter for useful advice on new products and noteworthy deals.
Allen Foster writes for BestReviews. BestReviews has helped millions of consumers simplify their purchasing decisions, saving them time and money.