EIN Presswire | Newsmatics
Love in Sedona the Hypnotic Dance Duo Release "Just Feel It"
News provided by
EIN Presswire
Oct 11, 2023, 11:16 AM ET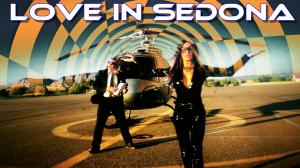 "Just feel it", is their second release and their first Hypno dance hit.
SEDONA, ARIZONA, USA, October 11, 2023 /
EINPresswire.com
/ -- Italian born naturalized American songwriter and music producer Gianluca Zanna, connecting through the virtual world of Facebook, at the beginning of 2023 met artist and singer Claudette Lyons from Sedona AZ. They discovered a profound connection, fueled by their shared love for music. Despite living just three hours apart in the picturesque landscapes of Sedona, Arizona, they embarked on an extraordinary journey of creativity and love creating the Hypnotic Dance Duo "Love in Sedona".
Besides being musicians and songwriters, both Gianluca and Claudette are also Hypnotherapists, and in their productions they infuse along with unforgettable catchy melodies, also empowering lyrics construed on hypnotic sequences with the purpose to empower the listeners.
Their first Hit, released in June 2023 was "Love in Sedona" sharing their love story in an upbeat electronic dance song blended with real ambience sounds from the nature of Sedona Arizona and mixed by Award winning Multiplatinum Music Producer Brian Reeves. In just few weeks "Love in Sedona" hit over 130.000 streams on
Spotify
only.
"Just feel it", is their second release and their first Hypno dance hit.
This isn't just any pop dance track. It's a portal to another realm—one where the very act of feeling is celebrated and magnified. The echoing chant, "Just Feel It," sets a tone, guiding the listener into an almost meditative dance state.
The hypnotic dance beats, perhaps reflective of Zanna and Lyons' background in hypnotherapy, allow listeners to shed their inhibitions, to "leave your thoughts out," and to truly immerse in the present moment. This isn't just a song; it's a therapy session, a dance class, and a musical journey all rolled into one.
Claudette Lyons' entry is spellbinding. The juxtaposition of her voice—a mesh of Cher's power with Madonna's allure—against the hypnotic beats is nothing short of magical. "Close your eyes - take a deep breath - just let me in - into your mind" she sings, inviting us into a world where music and hypnotherapy blend seamlessly, creating a unique experience.
And let's not forget the visual masterpiece accompanying the song. The music video, set in the vastness of the desert in front of a helicopter on a landing strip, is both avant-garde and yet perfectly fitting. Gianluca Zanna and Claudette Lyons, with their charismatic screen presence, command attention, making it impossible to look away. The imagery of them dancing amidst the relentless expanse symbolizes the song's underlying message beautifully: the vastness of our emotional landscape and the power of surrendering to the rhythm of life.
Gianluca and Claudette are now starting their tour in the best Music Clubs between Europe and Northern America bringing to life the most famous hits of the 70s 80s and 90s remixed by DJ Andrei from Romania and their latest singles "Love in Sedona" and "Just Feel it".
Listen on Spotify:
https://open.spotify.com/album/5cK2huVag7mmF2G6ogXbsl?si=TTuSxmDtRDild_Bg2STrWg
https://www.gianlucazanna.com
Gianluca Zanna
Gianluca Zanna Songs and Poems
email us here
NOTE: This content is not written by or endorsed by "KVEO", its advertisers, or Nexstar Media Inc.
For inquiries or corrections to Press Releases, please reach out to EIN Presswire.